Product release: New Camera Link frame grabbers supporting custom FPGA-based processing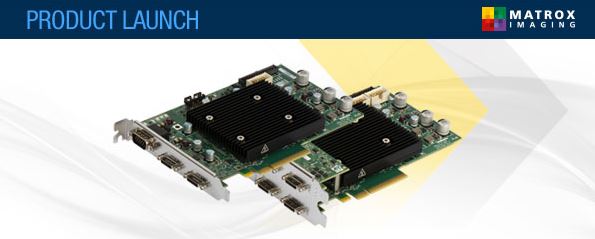 The latest addition to the leading Matrox® Rapixo series of frame grabbers is the Matrox Rapixo CL Pro, supporting the highest performance Camera Link® 2.1 cameras on the market, as well as providing onboard image processing offload using a field-programmable gate rarray (FPGA) device. Each Matrox Rapixo CL Pro model ensures high frame-rate image capture, support for extended cable lengths, and the reliable image acquisition trusted in all Matrox Imaging frame grabbers.
Matrox Rapixo CL Pro boards deliver:
• Connection to highest-performance Camera Link cameras including support for Full and 80-bit mode at up to 85 MHz
• Camera Link 2.1 interface compliance
• FPGA device for offloading image processing demands from host PC
• Ample onboard buffering that eliminates missed frames
• Multi-camera support for up to four Base or two Full/80-bit Camera Link cameras per board
• Simplified cabling with support for Power-over-Camera Link (PoCL)
• Support for Windows® and Linux® OS
---
For more information, kindly send in your enquiries to info@jm-vistec.com or call +65 6748 5517.