Postponement Announcement of 2020 Vision China(Shanghai)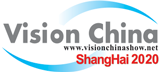 Shanghai Vision China 18-20 2020 has been postponed due to the Corona virus.
Due to the sudden and fierce outbreak of the novel corona virus (2019-nCoV), Shanghai government has initiated a first-level response to major public health emergencies. Strict measures have been implemented by the central and regional governments to prevent and control the outbreak.
As soon as a newer state of knowledge emerges they will inform  for the new schedule.
Click here, for more information.