Schneider Kreuznach launching new lens!
Schneider Kreuznach will be launching a new lens to their SWIRON series on 1st July 2018!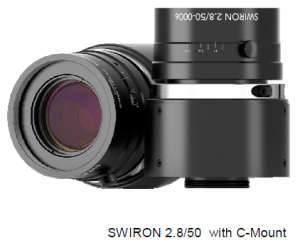 SWIRON 2.8/50
The SWIRON high-performance lens with either C- or V-Mount is extremely robust and insensitive to rough ambient conditions, with the result that the lens retains its high optical imaging performance in industrial environments. The secure locking of the iris and focus settings and the SWIR coating of 900 – 1700 nm is standard for this lens. This lens is suitable for highest resolution sensors down to 12.4 μm pixel size. A special lacquer for stray light reduction guarantees best imaging performance in all applications.
Key Features

• Suitable for 2048 Pixel 25.6mm sensor with 12,4μ Pixel pitch

• Minimized focal shift

• Distortion less than 1%

• Designed for 900 – 1700nm

• Usage of highly transparent glass for SWIR range

• Focus and iris setting lockable

Applications

• bio-pharmaceuticals / medical

• fluid inspection

• food control / agriculture

• plastic waste sorting

• solar inspection

• LIDAR

• Hyperspectral imaging / material testing
For more information, kindly send in your enquiries to info@jm-vistec.com or call +65 6748 5517.