Canon CMOS Image Sensors
Canon Quality for Industrial, Machine Vision & Scientific Applications
Canon's CMOS sensor technology offers OEMs and end users expanded possibilities for industrial vision applications. From uniquely large pixel sizes to exceptionally high pixel counts in a compact design, Canon CMOS sensors push the boundaries of imaging possibilities. Facilitating on-going innovation in industrial camera and image capture technologies, Canon CMOS sensors support pioneering solutions for advanced industrial, machine vision, medical and scientific applications.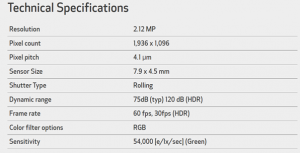 A Top-of-the-Line CMOS Sensor
With rolling shutter and a sensor size of 7.9 x 4.5 mm, the Canon LI7050SAC is a top-of-the-line CMOS Sensor. It offers a dynamic range of 120 dB and a maximum frame rate of 60 fps, creating flexibility and performance. It sports RGB color options and a sensitivity of 54,000, making it ideal for a number of applications. The Canon LI7050SAC CMOS Sensor offers 2M pixel HDR with high sensitivity at an affordable price. It's square 4.1µm x 4.1µm pixel arrangement and 1.8" frame achieves ultra-high resolution in a compact design. Discover how you can take your machine vision project to new heights with the LI7050SAC from Canon.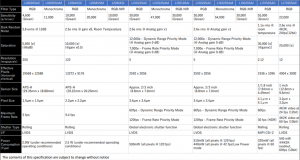 Kindly contact us for further information. Email us info@jm-vistec.com